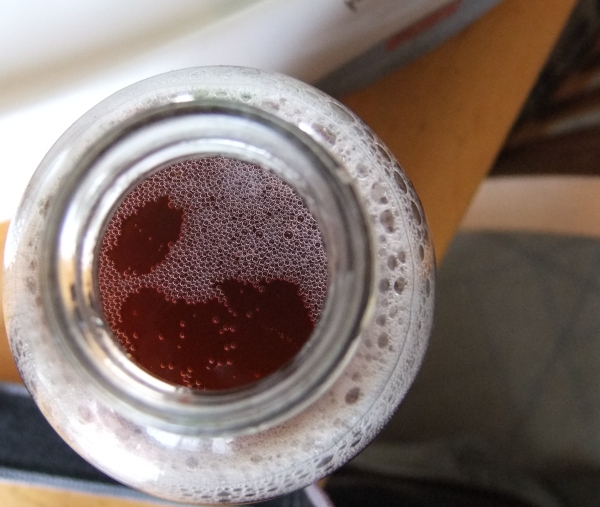 Water kefir is absolutely delicious. I know that sounds like marketing, but really, it is so tasty. When we were drinking it regularly a few years ago I would grab a bottle every afternoon right when the little ones went down for a nap.
This was the afternoon slump period that many, not just mamas, go through. More than coffee or tea or chocolate or sugar that bottle of water kefir perked me right up. It made me feel alive, light, and energetic. My husband said the same thing.
Water kefir is a cousin to the milk kefir culture, so it's no surprise that the enzymes and probiotics just make you feel good. Plus it tastes a lot like soda pop with its carbonated tang and sweetness, so it's a great way to quit the soda habit.
Making it is as simple as combining the culture with unrefined sugar and water for a first ferment and flavorings or juice for a second, carbonated, ferment.
I haven't made it in a while, simply because other cultures and work have occupied my time, but I think I might have to get back in the game. Especially with summer coming on. We love kombucha, but I find it a bit dehydrating. So instead of drinking kombucha for the hydration that lacto-fermented beverages provide, I prefer water kefir.
The Giveaway
If you've been meaning to try water kefir or, like me, need to get back on the wagon, then today is a good day. We're giving away five water kefir starter kits today. These kits include:
If you'd like to be entered to win head here where you can enter your name for the drawing. If you entered the week's previous giveaway, then don't worry that you're entering your name on the same landing page twice. All entries are time-stamped so we will find your name under the sourdough and milk kefir and yogurt and kombucha and cheese and water kefir giveaways.
So go ahead, throw your name into the ring! Winners will be announced Monday, May 6th.