Well, you know you are a cultured food nut when you think that a jar of fermented pickles is a healthy snack.
We love pickles in my house. My whole family has always loved pickles. But of all the different kinds of cultured foods I have attempted, this one is the most unpredictable and the hardest to figure out. One year I made two dozen jars of perfectly crunchy dill pickles… and they were gone by November. I have never been able to re-create them.
Last year I did five different batches of pickles, using various methods of pickling, fermenting, brining, etc., and various sets of ingredients. Some of them came out pretty well but not quite salty enough. Some bubbled over so much that the brine seeped out of the jars and I had to refill, and the resulting pickles were pretty much inedible. One set tasted delicious, but were so mushy we had to eat them with spoons.
This year I cautiously tried a new approach: natural salt-brine kosher dills from our own website. I had just two quarts worth of bumpy cucumbers from my garden ready to do something with, and this was perfect.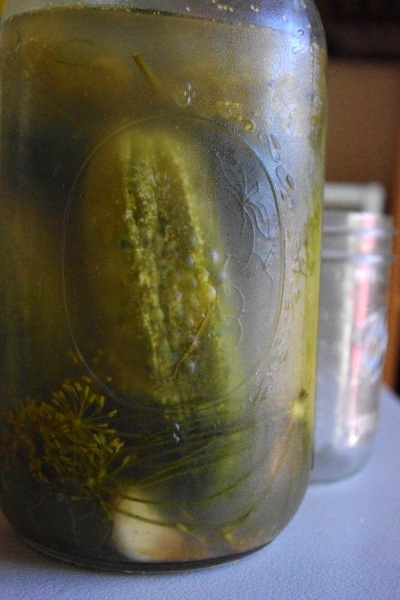 But… uh-oh! No fresh dill on hand! And no oak leaves! So as usual, I improvised. I did have some dried dill on hand, which I'd saved from the fresh dill I'd used last year. And I picked some strawberry and raspberry leaves from my garden. The purpose of the oak leaves in the recipe is to add tannin, which prevents enzymatic breakdown and keeps the pickles crispy. Did you know that lots of leaves have tannin? I hope these come out well! (Yesterday I was told blackberry leaves are good! There are plenty of those around the Pacific Northwest!)
I made a quart of brine using 3 tablespoons of ordinary pickling salt, and stuffed two quart jars with the cucumbers (cut in half lengthwise, because they are pretty big), some lovely fresh garlic, one small dried jalapeño in each jar, and about 2 teaspoons of dried dill. Topped off each jar with the brine, screwed the tops on, and started to wait!
Two days later they are starting to bubble and turning just a little bit cloudy. Can't wait to find out the final results!